2018 Earth Day Recycling Event
11th Annual Computer & E-Waste Recycling Event
11th Annual Computer & E-Waste Recycling Event for Earth Day
Hosted by H Built Computers on Monday, April 20, 2018 10:00am – 5:00pm in Sarasota, Florida
H Built Computers is committed to helping the environment by hosting the 11th Annual Computer & E-Waste Event on , April 20, 2017!
Friday, April 20, 2017  10 am to 5pm
H Built Computers
7119 S Tamiami Trail
Sarasota, Fl 34231
941.926.2629
www.hbuilt.com
Dispose of your unwanted electronics in a safe and eco-friendly way, for free!
Our goal is to place as much equipment as possible back into service through refurbishing, dismantling for parts, and further processing to reclaim base materials. This is the most beneficial and efficient process for the environment!
Bring us your old laptops, LCD monitors, desktop computers, printers, digital cameras, hard drives, keyboards, mice, cables and cords. 
NO CRT Monitors, TUBE TV's, Large Copiers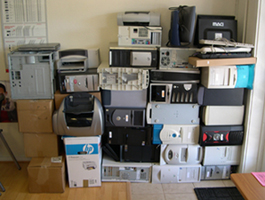 We reserve the right to limit quantities per individual