Why Recycle Your Computer Equipment?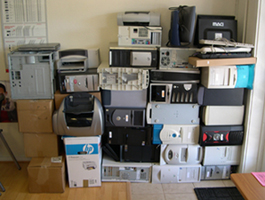 For every recycled monitor, you're keeping up to 4 pounds of lead out of the environment. According to Consumer Reports, other electronics components can contain chemicals like cadmium, mercury, and flame retardants. These chemicals can leach into the groundwater from a landfill or be released into the air from incinerators.
Sarasota Computer Recycling
Complying with government regulations for recycling electronics equipment isn't just smart, it's the law. If you live in the Sarasota area bring us your old laptops, desktop computers, printers and digital cameras and we will recycle them.
Services:
Virus, Spyware & Malware Removal | Data Recovery | Software Installation | Hardware Installation | Hardware Configuration | System Tune-ups | Wired & Wireless Networking | Password Recovery | Technical Support